How to: Add an alarm for your event. (Apple only)
Sometimes we live between the hustle and bustle, so it's always possible to forget important events. That's why an alarm could be helpful so your clients won't forget all the events you are planning (lives, webinars, special sales, etc.). This feature works for those using an Apple device.
If you want to add an alarm to your events, follow these steps:
First, go to your Fastcard
Click the Edit button
Go to the Events section
Click on the "Add Alarm" button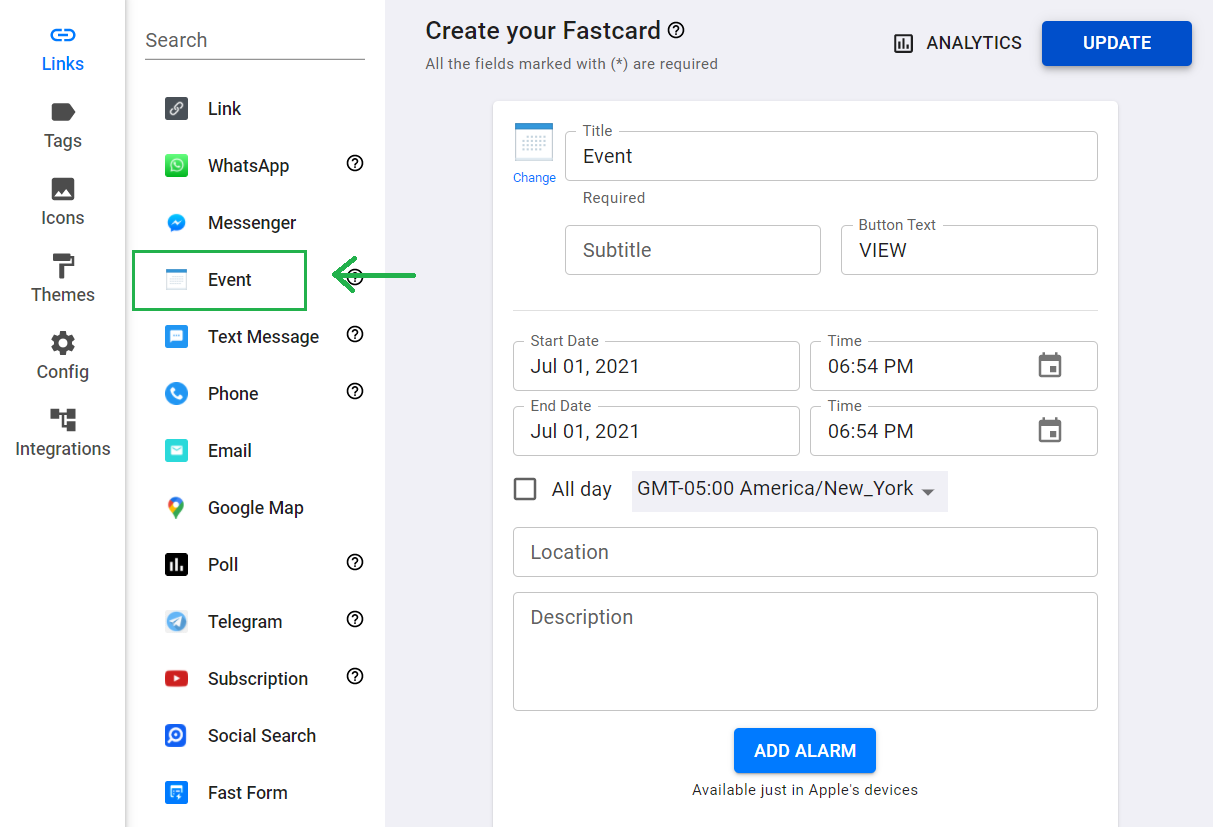 Important note:
Set the date and time before pressing the Add Alarm button. That's it.
Now that your alarm has been set, every client with an Apple device will be able to program a reminder for your event just by tapping this button.

Related Articles

About links: "Event"

Create events and share them with your customers, with this feature they will be able to save them in their preferred calendar After adding the Event action, give your event a title and a button text. Select your start or end date, and time. If ...

About Links: "WhatsApp" integration

Here you'll find information about the Fastcard WhatsApp integration link. The WhatsApp integration will be located under the Links section of the menu. To add, click on WhatsApp. WhatsApp's integration link: Use this feature to allow your customers ...

About links: Text Messages

Here you'll find information about text messages on your Fastcards. This feature can be found on the Links section. Text message: Use this feature to allow your clients to send some texts from your Fastcard. Add a telephone number to receive ...

How to: Group similar links

You might have noticed that there are plenty of social media platforms nowadays. That's why it would be so convenient for you to group similar features in just one section. You can feel free to group all the links you want to. It doesn't have to be ...

About Links: Add your email

As you may know, it is essential to keep in touch with our customers in all possible ways. That's why we have the Email Link, so you can provide your clients with a recipient email address where you'll receive their messages. Here is all you have to ...