How to change my email address
If you created your account with a currently outdated email address and you feel like it's time to change it, then you need to continue reading this.
It's simple. First, go to your account. Do you see the Account button on the right side of your screen. Click there and now select the Settings option.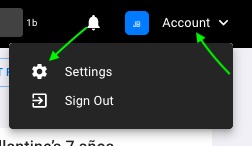 In the "Account" section, you'll be able to see your current profile. Below you can find the option to "Update Email". Just click it and bring the new mail to the action.

Related Articles

About Links: Add your email

As you may know, it is essential to keep in touch with our customers in all possible ways. That's why we have the Email Link, so you can provide your clients with a recipient email address where you'll receive their messages. Here is all you have to ...

What happens when I change plans?

Your current plan will be canceled immediately, and if you're upgrading, your account will be charged the price of the new plan. If you have any questions, please contact our customer support team by summiting a ticket here

How do I change my password?

Changing your password is really easy, just: 1. Go to Account and then Settings (On the upper right corner of your screen) 2. Click on "Password" 3. Type your old password and then your new one. 4. Click Save.

How to change the language of my account

If you need to change the language in your account, it's just a matter of a few clicks here and there. First, go to your Fastcard account. Click on the Account button, on the top right side of your screen. Select "Settings". Now, go to the Language ...

How to: Be added to your clients address book

Would you like your clients to save your contact info in a few clicks from your Fastcard? Easy-peasy. First, go to edit your Fastcard. Click on the "Links" button, on the menu bar on the left side of the screen. A list of actions will be displayed, ...