How to: Import a Fastcard
Suppose you are handling a few Fastcard accounts; if that's the case, you can now import any Fastcard on your dashboard and edit only the information that you need, so you can save time and the repetitive work of building similar Fastcards over and over again.
You only need to follow these steps:
Go to the Fastcards section.
You'll see two options: "New Fastcard" and "Import Fastcard." Let's go with the second option and enter the URL of the Fastcard you'd like to copy.


Note:
This could also be done with any Fastcard; you don't have to be its owner.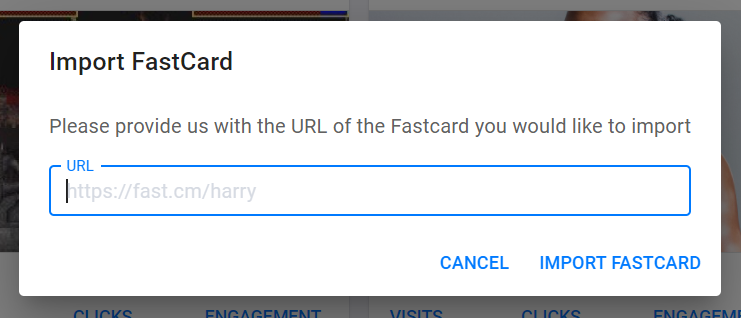 This is a great feature to save time and maybe copy other Fastcards you may like without starting from scratch.
Related Articles

What is a Fastcard?

Fastcards are highly optimized landing cards that turn your visitors into loyal customers. With one single entry point route people to multiple places where your content and products live. With more than 25 actions you control the entire user ...

How to create a fastcard

We know you're busy, so we want to help you to get your fastcard up and running as quickly as possible. This article contains a step by step mini manual to create your first Fastcard. After signing in for the first time, there are two ways of ...

Can I edit my Fastcard after is shared?

Once a Fastcard is published, it will allow you to edit it as many times as you need. Editing your published Fastcard can be done by logging in, picking the Fastcard you want to edit, and simply clicking the edit button. All edits will be ...

Can I remove or edit the share button of the Fastcard?

Yes, you can always remove or edit the text of the share option on any of your Fastcards, even though we recommend you don't remove it because it gives the opportunity to your customers to easily share it thus, reaching more people. To edit your ...

How to create Campaigns

How to Create a Campaign: Step-by-Step One of the best features this platform has is the creation of campaigns. It will give you the opportunity to organize, analyze, and customize each of them. Create a Campaign: Log in to your Fastcard admin page ...