How to: use the Disclaimer feature
Since we know that there might be some legal specifics regarding some products, you are now able to place a disclaimer for your clients right on your Fastcard.
It's a matter of a few clicks. Follow these steps to enable the disclaimer section:
First, go to your Fastcard account.
Select the Fastcard you need to add a disclaimer to.
Click the Edit button.
On the left pannel, click the Config button
Scroll a little bit to find the Disclaimer section
Now you're able to choose whether you want the disclaimer to be on top or the bottom of your Fastcard.
Remember to write the text you want your clients to see to know what this link is about.

Note: There's no character limit for this Disclaimer.
Finally, add the URL with the corresponding disclaimer if necessary. And that's it!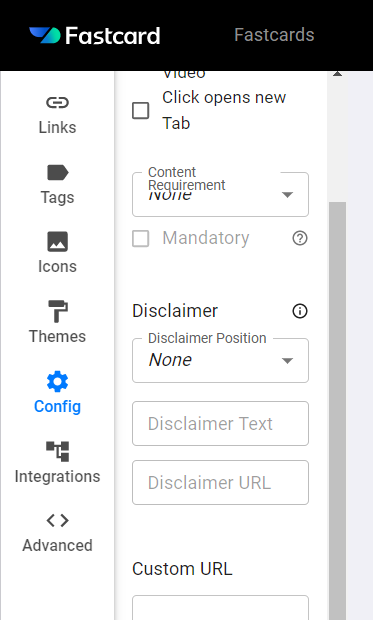 Related Articles

How to use the "Custom Domain" feature

When you publish your Fastcard, it will automatically get hosted as a "fast.cm" address. However, a Fastcard Premium Plan or higher will let you publish your Fastcard with your own custom domain. Those plans will let you customize the exact name that ...

Social Search Feature

Have you heard about our Social Search feature? With this feature, your audience can navigate a minimalist landing page with its own search bar to locate content or keywords. It's a valuable tool to make your posts, and videos, searchable and never ...

How to: Group similar links

You might have noticed that there are plenty of social media platforms nowadays. That's why it would be so convenient for you to group similar features in just one section. You can feel free to group all the links you want to. It doesn't have to be ...

What is a Fastcard Link?

In this article, you'll find general information about fastcard links. A fastcard link is every option you add to the Fastcard to generate the user's response. All links have an Icon, a title, and a button text; in some cases, they also have ...

How to Add Sensitive content warning to your Fastcard

Great for brands or creators that want to show or promote +18, 21, 25, or just sensitive content products or materials. Click on the "Config" section on the left side of the Fastmind platform Select your content requirement Check on Mandatory if you ...