All about Links: File Access
Would you like to offer your clients files with some deeper insights or information about your products?
With the File access feature, you can.
To upload a file to your Fastcard so your clients can download it, follow these steps:
Go to your Fastcard.
Click the Edit button.
Go to "Links" on the panel on your left side.
Now, go directly to the File Access section and click it.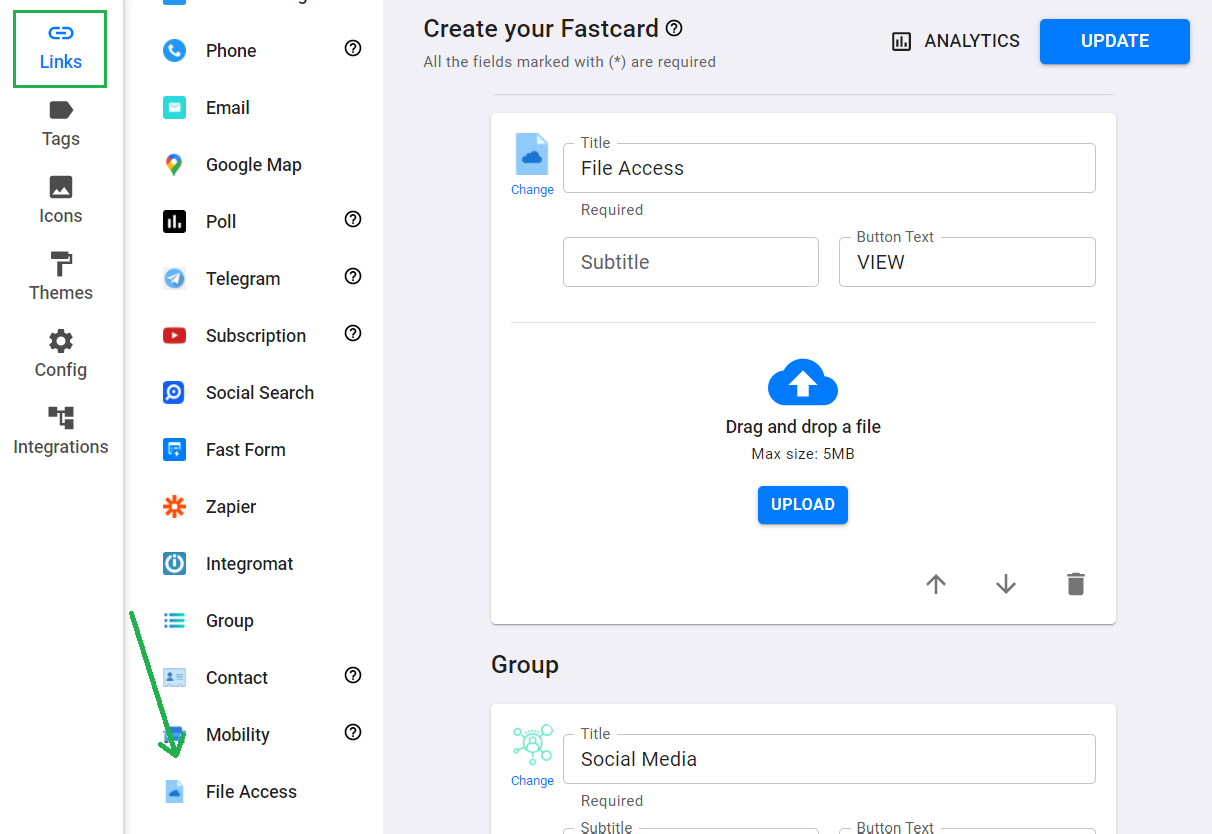 Once "File Access" is added to your Fastcard, enter a Title to let your clients know what this File is about. A subtitle is optional, but it may be helpful, too.

Remember: Write a button text. That's what your client will read before pressing to download. It's also possible for you to change the icon if you'd prefer another.
Drag and drop to upload the File.

Important:
The File must have a maximum size of 5MB.
Click the Update button to save all your changes.

Note: this feature is available from the Enterprise Plan onwards.
Related Articles

About Links: "WhatsApp" integration

Here you'll find information about the Fastcard WhatsApp integration action. The WhatsApp integration action will be located under the Links section of the menu. To add, click on WhatsApp. WhatsApp's integration action link: Use this action to allow ...

How to: Group similar links

You might have noticed that there are plenty of social media platforms nowadays. That's why it would be so convenient for you to group similar features in just one section. You can feel free to group all the links you want to. It doesn't have to be ...

About links: Add your contact for SMS

An SMS could be a convenient way to let your client communicate easily with you. It's easy to set and will let them send you any message to your personal or business cellphone number. In other words: Use this feature to allow your customers or users ...

About General links: "Event"

Create events and share them with your customers, with this feature they will be able to save them in their preferred calendar After adding the Event action, give your event a title and a button text. Select your start or end date, and time. If ...

How to change or upload an action link Icon

Here you'll find information on how to change or upload icons to your Fastcard To change the icon on an action, you are going to click on the button below the action icon. It should say "change". The icon search will pop up. ​ Icons are what bring ...